Interfacial tension under reservoir conditions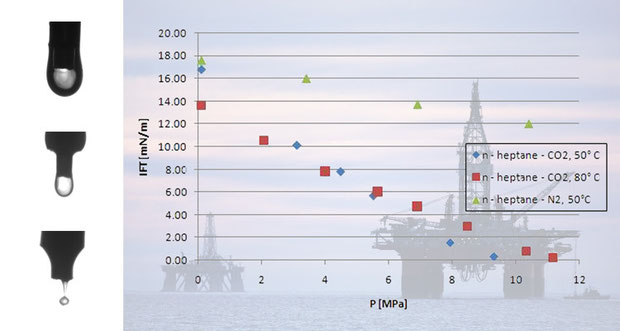 References
P. Jaeger, A. Pietsch, Characterization of reservoir Systems at Elevated Pressure, J. Petrol.Sci. Eng.64 (2009) 1-4, 20 - 24.

P. Jaeger, M. Aloaibi, H. Nasr-El-Din: Influence of Compressed CO2 on the Capillarity of the Gas-Crude Oil-Reservoir Water System, J. Chem. Eng. Data 2010, 55, 5246 – 5251.
P. Jaeger, R. Eggers: Interfacial properties at elevated pressures in reservoir systems containing compressed or supercritical carbon dioxide, J. Supercrit.
Fluids 66 (2012), 80 – 85.
P.T. Jaeger: Interfacial Phenomena in Enhanced Oil and Gas Recovery, Habilitation at Hamburg University of Technology, (2014).