Densities of liquid-gas mixtures
pressure range: 0,1 - 250 MPa

temperatures: 20°C - 120°C
Viscosities of liquids and gases
pressure range: 0,1 - 250 MPa

temperatures: 20°C - 120°C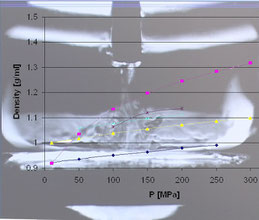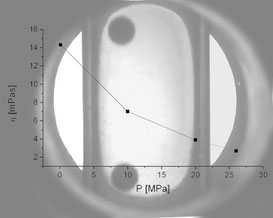 Example:                                       

high pressure homogenisation          
(Oil and water density)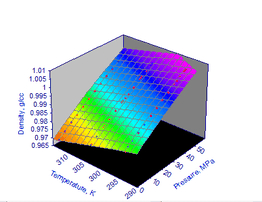 Example:
Lubricants with dissolved gases
References
A. Tegetmeier, D. Dittmar, A. Fredenhagen, R. Eggers: Density and Volume of Water and Triglyceride Mixtures in Contact with Carbon Dioxide, Chem. Eng. Proc. 39 (2000) 399 – 405.
S. Knauer, M. Schenk, T. Köddermann, D. Reith, P. Jaeger: Interfacial Tension and Related Properties of Ionic Liquids in CH4 and CO2 at Elevated Pressures: Experimental Data and Molecular Dynamics Simulation, JCED, J. Chem. Eng. Data, (2017), 62 (8), 2234–2243.